Never You Playlist – Songs In Order of Appearance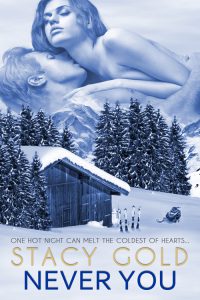 Never You, book #3 in my Emerald Mountain series, is a steamy, enemies-to-lovers novella about two people who've been guarding their hearts, discovering they've been wrong about themselves, and each other, all along. *(Novellas in the Emerald Mountain Series are stand-alone, not chronological, and can be read in any order!)
Even though I love music, I don't often listen to it while writing, or think in terms of story soundtracks. But Daniel, one of the main characters in Never You, almost always has music playing. Thanks to his mom, he's a fan of nineties bands and classic rock.
In case you're wondering what, specific songs were incorporated in this story, here's a playlist…
Guns N' Roses – Welcome to the Jungle
The Black Crows – Hard to Handle
The Eagles – Take It to the Limit
Stevie Ray Vaughn – Pride and Joy
The Rolling Stones – You Can't Always Get What You Want
Van Morrison – Into the Mystic and Crazy Love
Dave Mathews Band – Everyday
Little Feet – Dixie Chicken
Sheryl Crow – I Shall Believe
Goo Goo Dolls – Iris
Haven't read Never You yet? Here's what this steamy little enemies-to-lovers story is all about…
Emerald Mountain Ski Hut Caretaker Morgan Monroe doesn't do casual relationships. Not anymore. Certainly not with the obnoxious, flirty, too-hot-for-his-own-good chef she's wanted to strangle all season. He's the kind of man she wouldn't date in a million years, even if he were the dating type.
Chef Dan Griffin doesn't believe in relationships. But a one-night stand to celebrate the end of ski season? Hell yes! Especially with the gorgeous caretaker. She's sexy but melt-in-your-mouth sweet, the kind of woman who could convince a man to get serious…if he were the relationship type. She kept her distance all winter, but he's hoping he can convince her to get closer for one night of passion.
When things heat up on a cold winter's night, will they play it safe or follow their hearts?
What's inside? Approximately 115 pages featuring workplace romance in a remote mountain ski hut, backcountry skiing, deep powder, and smokin' hot sex.
Read Chapter 1 of Never You or go here to grab your own copy now.
Comments