Enter the St. Patrick's Day Romance Giveaway with Three Different Ways for You to Win Kindles, Ebooks, & Gift Cards Galore!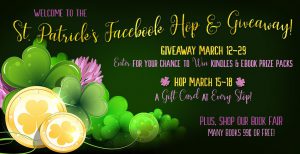 St. Paddy's Day is coming up and I have three pots of romance reader gold I'm eager to share! I've joined forces with 70 other authors to bring you three ways to enter to win almost 80 prizes.
1) Visit our main giveaway and enter for your chance to win one of 7 prizes, including: a Kindle Paperwhite with matching leather case, Kindle Fire, or ebook prize packs where you choose the books on Amazon you want to win!
2) St. Patrick's Day weekend, March 15-18, join us for an epic Facebook Hop with 70 chances to win a gift card.
3) Enter the BONUS gift card giveaway at our book fair, where you'll find more than 65 ebooks in a wide range of romance genres to click, buy, and read.
This Giveaway is Sponsored by the Fabulous Romance Authors
Alicia Street • Alyssa Drake • Amanda Uhl • Angelica Kate • Anni Fife • April Fire • Ashlee Price • Authors' Billboard • Bambi Lynn • Beata Blitz • Bree Dahlia • Bree M. Lewandowski • C.A. King • Calinda B • Cara Marsi • Carrie Whitethorne  • Charmaine Ross • Chiquita Dennie • Chloe Flowers • Debbie White • Denise Devine • Donna Fasano • Donna R. Mercer • Donna Schlachter • Dystopian Fantasy Fanatics • Elizabeth Rose • Holly Cortelyou • Jana Richards • Jennifer Saints • Jennifer Vester • Joanne Dannon • Josie Riviera • Joynell Schultz • Julie Trettel • Karen Michelle Nutt • Kathryn Knight • Kristy Tate • L.D. Rose • Laurel Greer • Leanne Banks • Marsha A. Moore • Mary Abshire • Mary Morgan • Maureen Bonatch • Melissa Belle • Melissa McClone • Michele Barrow-Belisle • Mimi Barbour • Mona Sedrak • Monique McDonell • Nancy Radke • Natalie Ann • Pamela S. Thibodeaux • Pauline Creeden  • PG Forte • Ruth Kaufman • S.A. Larsen • Sahara Roberts • Sarah Williams • Soraya Naomi • Stacy Gold • Stella Marie Alden • Stephanie Queen • Susan Jean Ricci • Sydney Aaliyah Michelle • Taylor Lee • Tena Stetler • Traci Douglass • Traci Hall • Aileen Harkwood
Comments