Book Review: The Rogue Not Taken by Sarah MacLean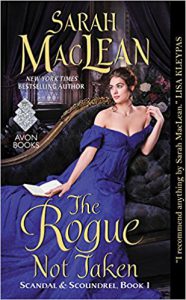 I don't read a lot of historical romance. But, I had the great pleasure of hearing feminist romance author Sarah MacLean speak at a conference last year (keynote and a workshop on writing dialogue). I picked up one of her books, The Rogue Not Taken, and immediately added it to my TBR list. I finally got a chance to read it recently, and I'm so glad I did.
I find it hard to resist quirky/punny titles. Most of all I love smart, strong, sassy heroines, and Sarah MacLean does not disappoint.
She's an unmarried woman from a scandalous but well-to-do family who causes a scene at a London society function, creates a huge mess and then tries to walk away from it—and the high society life she never wanted. Along the way a Duke tries to rescue her even though he doesn't really want to. I don't usually care for the virgin deflowered trope (one reason I don't read a lot of historicals) because it puts too much of the power in the man's hands (pun fully intended), but this one is done oh-so-right.
The main characters' banter is sarcastic, their attraction apparent, and the sexual tension scorching. My only quibble, and it is a mere quibble, is that the book could have ended a little sooner. I didn't need the final plot twist to be satisfied—and neither did the heroine (yeah, pun fully intended again).
And of course, our hero is completely devoted to making the heroine feel A-mazing every time they kiss or touch or fool around. Love that!
I really enjoyed this book and ripped through it a little more than a day. Whether you read historical romance or not, this book is definitely worth your time. You can find it here.
Comments