Enjoy this Excerpt from Just Friends – My Steamy, Short Contemporary Ski Romance on Sale Now!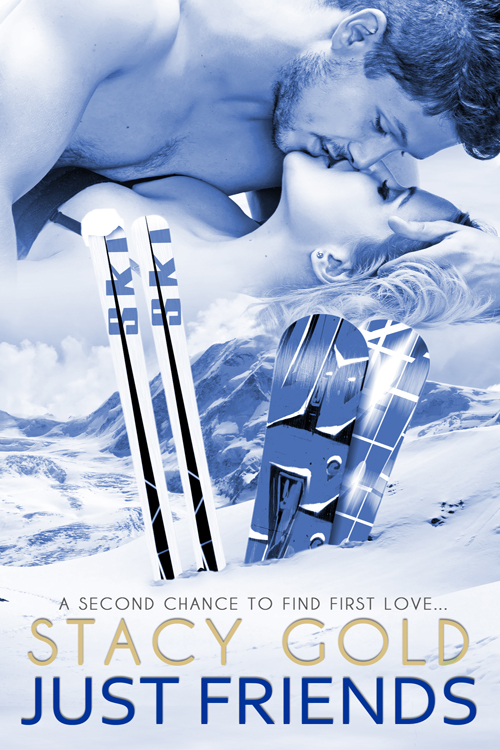 My eyes followed the curve of his lips. They weren't thin, and they weren't full either. But they had a kissable shape that begged me to trace their subtle contours with the tip of my tongue. To nip. To explore and taste.
Not that it would ever happen. Not again. I had proof of that.
We'd kissed once, on a drunken night years ago, right after he'd split with his long-term girlfriend. It started out toe-curling, but ended when he pulled away and made it clear he wasn't attracted to me. At least, not in the way I was attracted to him. Mortified, I pretended it was the alcohol and vowed never to let him know how much I wanted him.
A good vow to remember. Especially now, when I needed a friend more than anything else. Definitely more than I needed a romantic distraction.
"It's great to see you." His words, and his smile, flowed over me like liquid caramel.
"You too." The connection between us buzzed in me like high-tension power lines. Same as always. So powerful I couldn't understand how, or why, he didn't feel it too.
Our noses were inches apart. I tasted his breath, minty and sweet, and licked my lips in anticipation of a kiss I knew would never come. Some habits die hard. I was determined to choke this one until it gave up the ghost.
About Just Friends
Taya Monroe is trying to pick up the pieces of her failed writing career and broken life after walking out on her cheating fiancé. The last thing she needs is a serious relationship. The last thing she wants is a fling. Then she runs into an old friend and ski partner—the one man she always wanted who never wanted her.
Ski Patroller Jordan Wiley is a single dad with zero time or energy for dating. When he reconnects with Taya, his attraction to her is even stronger than before she left him behind for a career in the city. But with a young son to think about, he's determined to ignore his feelings. Again.
After a magical day on the slopes, a snow storm traps them in an avalanche of chemistry neither can deny. Will their friendship survive the weight of their passion, or will they surface as more than friends?
Buy Just Friends from one of these fine retailers:
WARNING: This book contains explicit sex and dirty words
Comments