In Deep is Coming Soon to an e-Reader Near You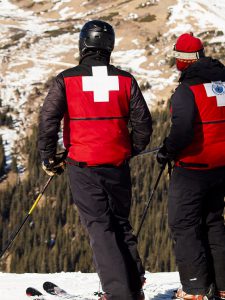 So, I'm beyond excited to announce that the latest in my series of short, steamy, contemporary ski romances is coming soon—likely Q4 (cue happy Snoopy dance). It is currently being edited by my awesome publisher, The Wild Rose Press  This is the second novelette I've set at Emerald Mountain Ski Area in Central Washington State, and it was a blast to write.
I love skiing, so needless to say, I love writing about skiing. Having spent a number of years ski-bumming around the Rockies in my twenties, I've seen loads of relationships form on the hill. Something about the extra euphoria, danger, and adrenaline, and makes a developing relationship more intriguing.
If you've read Just Friends, my first Emerald Mountain novelette, then you already know ski patrollers Max and Sophie. Their the main characters in In Deep. This is the story of how they ended up together.
Here's the draft teaser blurb for ya…
Can they keep their jobs, and each other?
Sophie Tremore is trying to build a career in the male-dominated world of Ski Patrol. Hard to do when her new boss and former lover, Max Demford, keeps treating her like she's incompetent—when he's not ignoring her existence.
Emerald Mountain Ski Patrol Director Max Demford has been doing his best to avoid working with Sophie. His judgment is clouded by those eight, mind-blowing weeks two years ago. Ski patrol is dangerous enough, and no way could he handle it if another person he cares about gets hurt on the mountain.
Short-staffed, Max reluctantly agrees to train Sophie on avalanche control. Working together makes it harder to ignore the mutual attraction simmering below the surface. When Sophie gets caught in a slide, an adrenaline-filled day turns into a spectacular, sex-filled night they need to forget, or risk their careers.
Want to be the first to know when In Deep is coming out, and get the chance to get your hands on an ARC (Advanced Review Copy)? Join the Gold Club! You'll also get the chance to win a copy of Just Friends and other good stuff.
Comments