Enter the Naughty Nights Hot & Erotic Romance Giveaway and Book Fair
Aug 24 – Sept 14 to Win a Kindle Fire HD 8 + 80 eBooks!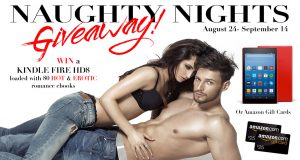 If you love steamy & erotic romance books with scorching hot heroes, we have 80 of them and a Kindle Fire HD 8, ready for one lucky winner to claim!
This phenomenal prize package includes ebooks by Sylvia Day, Laurelin Page, Alice Ward, Skye Warren, Elle Kennedy, Vi Keeland, Maya Banks, Sarina Bowen, Katy Evans, Kendell Ryan, Adriana Locke, and more. Plus, win 22 sizzling romances donated by the talented authors sponsoring the giveaway—including me. Check out the complete list of eBooks in the prize package.
Two runners-up will win $25 Amazon gift cards.
This Giveaway is Sponsored by these fine authors:
Alicia Kobishop • Allyson Lindt • Anita Kidesu • Cailin Briste • Cassandra Bloom • Christine d'Abo • EJ Smyth • Elizabeth SaFleur •
Jeanne St. James • Jenna Bayley-Burke • Josie Litton • Marie Tuhart • Meg Xuemei X • Megyn Ward • Monica Goggin •
N.S. Johnson • Natalie Rios • Pia Monroe • Rebecca Brooks • Silla Webb • Soraya Naomi • Stacy Gold •
Summer Cooper • Suzanne Jenkins • Taylor Marsh • Tejvati Jheelan • Whitley Cox
Must be 18+ to enter. No purchase necessary.
Comments