Win 80 Romance eBooks Loaded on a Kindle HD in the Books at the Beach Giveaway!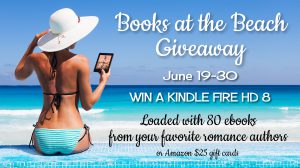 How many books do you read over the average summer? Could you read 80? Because that's how many ebooks one lucky winner will walk away with in the Books at the Beach Giveaway, it's a romance readers dream. Enter the Giveaway Here
Books include the latest titles from Nora Roberts, Catherine Bybee, Debbie Macomber, and Gena Showalter, plus dozens more. You could win a copy of my book Just Friends, too. Plus, two runner-ups win $25 Amazon gift cards.
The Books at the Beach Giveaway & Book Fair runs June 19-30. Enter Here Now
Sponsored by these 54 authors:
Alina K. Field • Allyson Lindt • Amy L Gale • Anna Durand • Astrid Arditi • Barbara Lohe • Beverley Oakley • Bianca D'Arc • C. A. King • C.E. Wilson • Carmen Fox • Casi McLean • Catherine Kean • Chloe Flowers • Christa Paige • Constance Phillips • Cynthia Clement • Danica Favorite • Debbie White • Denise Jaden • Dianne Venetta • Elizabeth Rose • Gayle Parness • Helen Scott • Jacqueline Diamond • Jina Bacarr • Josie Riviera • Judith Keim • Karen • Michelle Nutt • Katherine Lowry Logan • Kris Michaels • Kristina Knight • Kristy Tate • Margaret Locke • Mari Carr • Naomi Bellina • PG Forte • Quinn • Raine English • Regan Walker • Sheila Seabrook • Shelique Lize • Soraya Naomi • Stacy Gold • Stella Marie Alden • Stephanie Julian • Stephanie Queen • Sydney Aaliyah Michelle • Sylvia Hubbard • Tamara Ferguson • Tena Stetler • Traci Douglass • Vicki Crum
And while you're at it, shop our awesome summer book fair with over 50 fantastic romance titles for you to choose from.
Comments
You may use these HTML tags and attributes: <a href="" title=""> <abbr title=""> <acronym title=""> <b> <blockquote cite=""> <cite> <code> <del datetime=""> <em> <i> <q cite=""> <s> <strike> <strong>