My Recent Author Interview on Peggy Jaeger's Blog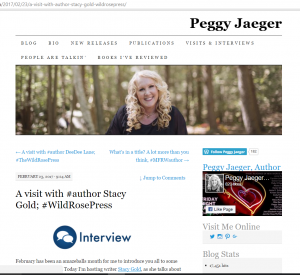 Yesterday, I had the great pleasure of being interviewed on author Peggy Jaegers fantastic blog. Her interview questions were fun, funny, interesting and different. I hope my answers were, too.
If you'd like to learn more about me, why I write, what I do for fun, and other stuff you probably hadn't even thought of yet, check out my interview here.
Comments
You may use these HTML tags and attributes: <a href="" title=""> <abbr title=""> <acronym title=""> <b> <blockquote cite=""> <cite> <code> <del datetime=""> <em> <i> <q cite=""> <s> <strike> <strong>