In Deep Chosen as a 2019 HOLT Medallion Award Finalist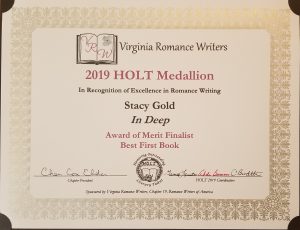 I am pleased as punch to announce that second novella in the Emerald Mountain Series, In Deep, has done it again. In addition to winning the N.N. Light Book Award for Best of Erotic Romance in 2018, it was recently given an Award of Merit as a Finalist for Best First Book in the Virginia Romance Writer's 2019 HOLT Medallion Awards!
The HOLT Awards are judged by avid romance readers, so it's a real indicator of how good readers find a book to be. While it's always nice to win, it's an honor to have been chosen as a finalist for this prestigious award.
Grab your copy of In Deep here.
About In Deep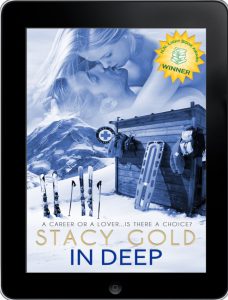 Sophie Tremore is trying to build a career in the male-dominated world of Ski Patrol. Hard to do when her new boss is her smokin' hot ex-lover. She hasn't forgotten how he made her body tingle and her heart pound, although he's making it a lot easier by treating her like she's incompetent—when he's not ignoring her existence altogether.
Emerald Mountain Ski Patrol Director Max Demford has been doing his best to avoid working with his feisty former flame, given his judgment is clouded by those eight mind-blowing weeks two years ago. Ski patrol is dangerous enough, and no way could he handle another person he cares about getting hurt on the mountain.
Forced to work together, their simmering attraction becomes difficult to ignore. When Sophie gets caught in a slide, an adrenaline-filled day could turn into a spectacular night they will never forget—one that could risk both their careers.
Read a sample of In Deep here.
What readers are saying about In Deep
"The queen of sexual tension, Stacy Gold, is back with a smokin' hot ski romance novella perfect to warm you up this winter!" N. N. Light, Top International Reviewer
"5 Stars! I loved this book – the characters, the setting, the hot chemistry, and the skiing and ski patrolling." Amazon Reviewer
"Stacy Gold has done it again! Melding fantastic scenery, outdoor sports and real characters she gives us this hot romp through the snow." Amazon Reviewer
"Another great ski and romance story from Ms. Gold." Amazon Reviewer
"It's hard to put her stories down once you start reading." Amazon Reviewer
"The romance is hot and the snow is cold and deep." Amazon Reviewer
"Max and Sophie's tortured relationship is HOT!!" Amazon Reviewer
"Ms. Gold takes risk with this battle of the sexes as she tackles hot button topics and attention grabbing scenes with heart-stopping romance." Amazon Reviewer
"If you like fun, steamy romances, I highly recommend this book." Amazon Reviewer
"Fast-paced read with good characters, suspense and steam…" Amazon Reviewer
"I love this story for its clever situation of danger, lust, compassion, and adventure without leaving your warm home. I would recommend this book with 10 cold chills out of 10!" Heartracer – Reading Alley Reviews
Grab your copy of In Deep now.
Comments