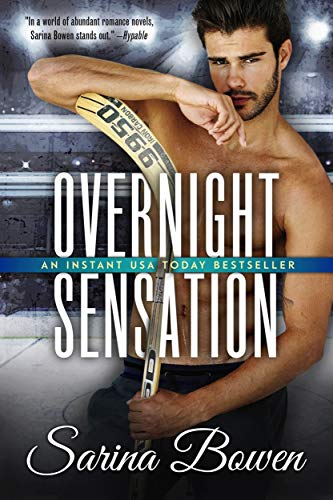 Sarina Bowen Delivers Another Fun, Flirty, Steamy Hockey Romance
I can't say I've read every book by Sarina Bowen (Because, have you seen the size of her backlist? When does this woman sleep, or eat?), but every one I have read has been at least very good if not great. Once again, Ms. Bowen delivers. Overnight Sensation is my second favorite of her books so far next to Him (cowritten with Elle Kennedy, Him is A++ fantastic–so good I read it twice).
Give me a romance where the characters are more layered than you initially realize, and then grow and change. Throw in a dash of humor, a pinch of angst, and a whole lot of sexual tension and I'm in. This book has all of that and more, in spades.

Heidi, who is a slightly annoying secondary character in another book in this series, Brooklynaire, has much more to her than meets the eye in this steamy love story. While I'm not particularly a hockey fan, I always enjoy a seemingly tough guy like Jason who's deep down a softy. These two have loads of issues to unpack on the road to falling in love, and the journey is at least as good as the destination.

Totally binge-worthy. Buy it now, but don't start reading it until the weekend or you're going to be really tired at work the next day.
Comments