Enter the Hold Me Close Romance Giveaway for Your Chance to Win a Kindle Fire, Ebook prize packs, a Gorgeous Sea Glass necklace & More!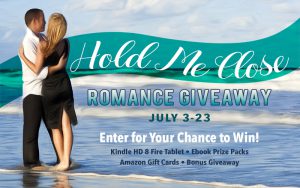 Enter to Win Here!
Nothing is quite as romantic as a passionate embrace on the beach. Enter the Hold Me Close Romance Giveaway for your chance to win a Kindle HD 8 Fire tablet ready for you to load with romantic beach novels, or romantic novels for your beach vacation or pool days.
You could even take home one of three ebook prizes packs where you get to choose the ebooks on Amazon you'd like us to buy for you!
Plus, you could be win a beautiful sea glass necklace to go with your summer outfits.
Once you've entered, check out the latest book bargains from our sponsoring authors at our online book fair. All book fair books are priced at 2.99 or less, with some FREE exclusive downloads.
Be sure to play our Scavenger Hunt Bonus Giveaway while you're at the book fair!
This Romance Giveaway is Sponsored by these Fine Authors:
Alexia Adams • Amanda Uhl • Amy Knupp • Andy Wayne • Anne Stone • Ashlee Price • Calinda B • Donna R. Mercer • Elizabeth Rose • Holly Cortelyou • J. L. Lora • Jackie Weger • Joanne Dannon • Kristy Tate • Laurel Greer • Leanne Banks • LK Shaw • Maria K. Alexander • Megyn Ward • Melissa McClone • Natalie Ann • RM Alexander • S.L. Sterling • Sahara Roberts • Shanen Black • Soraya Naomi • Stacy Gold • Suzanne Jenkins • Tara Wyatt • Taylor Marsh • Tee Smith • Traci Hall • Victoria Pinder • Aileen Harkwood
Giveaway Ends July 23rd
Comments
You may use these HTML tags and attributes: <a href="" title=""> <abbr title=""> <acronym title=""> <b> <blockquote cite=""> <cite> <code> <del datetime=""> <em> <i> <q cite=""> <s> <strike> <strong>