REI's Wild Ideas Worth Living Podcast Interview with Adventure Romance Author Stacy Gold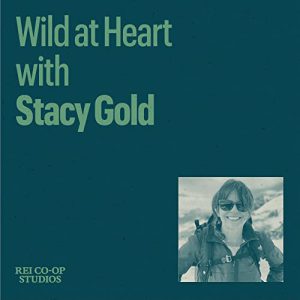 I'm beyond honored to have been featured on REI's Wild Ideas Worth Living podcast. I bought my very first backpack at REI (Recreational Equipment, Inc.) 36 years ago—and a whole lot more gear since. Having me and my backpacking adventure romance novel, Wild at Heart, featured on their awesome podcast blows my mind.
If you're an outdoorsperson in the US—and even if you're not—you're likely familiar with REI. It's the biggest outdoor specialty store chain in the country. They also offer classes, gear rentals, adventure trips, space for nonprofits to have meetings and events, and, of course, phenomenal podcasts. I'm in amazing company with folks like Max Lowe (mountaineer Alex Lowe's son), Rick Stanton (One of the divers who rescued the Thai children from a flooded cave in 2018), mountaineer and documentary filmmaker, Jimmy Chin who recently released Free Solo about famed climber Alex Honnold, and many others.
I've done close to thirty podcast, radio, and TV interviews for Wild at Heart, and while they've all been great, this one is my favorite. It's hard to beat talking at length with another serious outdoorswoman and adventurer who also adored my book!
A Little About REI's Wild Ideas Worth Living Podcast and My Interview
Have you ever had a wild idea, but were afraid to act on it? Or maybe you started, but then self-doubt crept in and you talked yourself out of it? It took host Shelby Stanger three years to quit her job to pursue a life of adventure. From freelance journalism to living abroad in Costa Rica and New Zealand, Shelby started this podcast to tell stories of people like her who took a risk and created a life around doing what they love.
This show is about building a community of people who want to make more positive decisions in their lives, from the food they eat to the people they surround themselves with. It's about taking a wild leap of faith and having meaningful conversations with people who have made it happen.
Podcast Host Shelby Stanger Had this to Say About Wild at Heart…
Outdoor romance novelist Stacy Gold gave up her day job at a mountain biking nonprofit to write steamy romance novels. Her characters are strong, adventurous women – and the men who can't resist them. Stacy has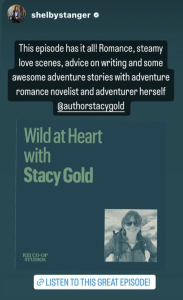 released four award-winning books, including her newest novel Wild at Heart, with more on the way. Writing romance novels that take place in the great outdoors gives Stacy a lot of material to work with: interesting plot points, beautiful scenery, and plenty of opportunity to crank up the tension.
And…she said my book was a page-turner that made her laugh and blush!
The podcast is available for your listening pleasure on all the usual purveyors, and on REI's website here.
Grab a copy of Wild at Heart or learn more about my steamy, outdoor adventure romance novel here.