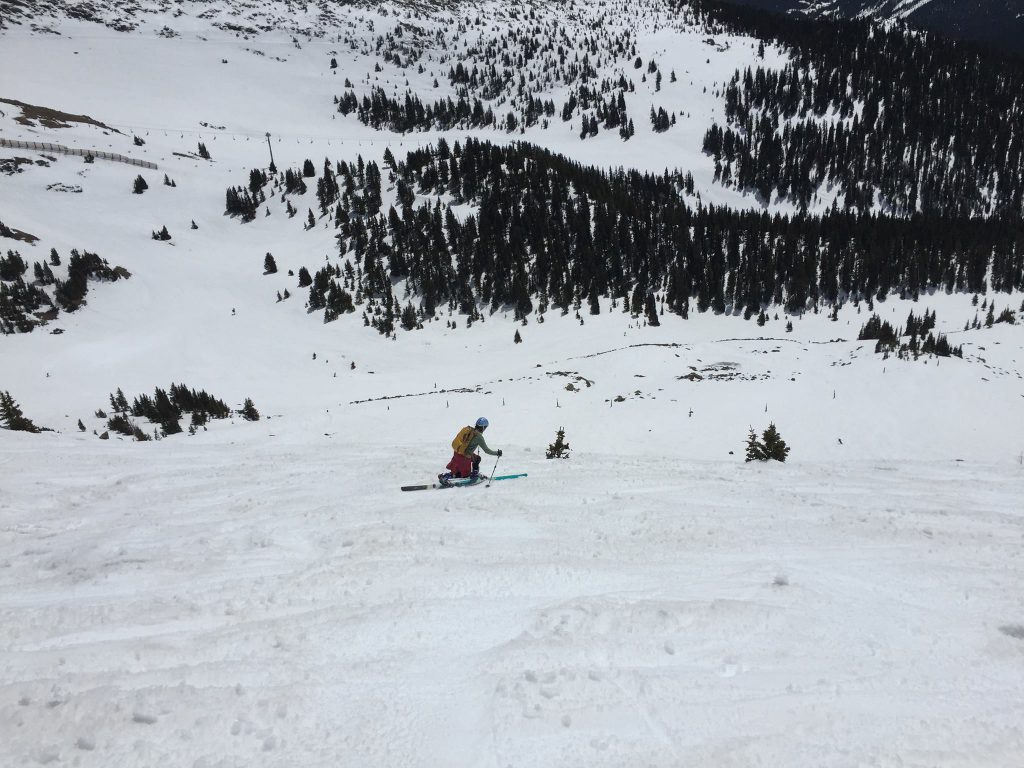 My Five Favorite Ski Resorts in Colorado for Awesome Steep Skiing
While I enjoy all kinds of ski resorts and areas for a variety of reasons, if I can't have fresh powder, and it's not icy, give me steep skiing. Not steep groomers. I'm talking ungroomed, dangerous obstacles exist, 40+ degrees steep inbounds terrain.
Something about the sensation of the controlled fall really does it for me. Always has. Add in a little consequence for spice, and some packed powder for edge control, and I'm a happy skier.
I'll admit it, I've only skied half of the 30 or so ski areas small and large in Colorado. But I'm now in my tenth season of living and skiing here (in two, five-year stints). And I've had a season ski pass twenty-eight of the last thirty years at resorts in Colorado, Wyoming, Montana, and Washington. So, I feel I've got some pretty solid beta to share on where to find the best steeps to ski.
In no particular order here are my top five resorts for steep skiing in Colorado.
Arapahoe Basin – A-Basin is smallish, and old school, and 73% black and double black diamond runs. I learned to ski steeps here back in the early nineties. To this day, I still love the way my stomach trades places with my heart every time I drop the big cornice on the backside. Or thread through the trees in the Alleys. If you care more about steep chutes than shopping and dining, A-Basin is for you. But get there early as the parking lots regularly fill up, especially on powder days and in the spring.


Aspen – I'll admit I've never skied Snowmass, but that's because I can't seem to leave the steeps at Aspen Mountain (Ajax) and Aspen Highlands. Especially Highlands. If you're willing to hike the bowl you can enjoy one of the longest, steepest, bestest ski runs outside Jackson Hole (My home for four seasons). And if you prefer a high-end mountain resort with all the amenities, well, it doesn't get much swankier than Aspen.


Crested Butte – Yes, it's a drive to the middle of nowhere to reach this resort, but it's worth it if you like steep, rocky, rowdy slopes. Both the town and the terrain are a little rough around the edges, in the best possible way. I haven't had the pleasure of skiing there since 1994, but I still have a warm spot for it in my heart. I'm making a plan to get back there this year.


Telluride – Another resort I haven't made it to since I lived in Colorado in the nineties because it is a haul from the Front Range. But I have fond memories of my trip to Telluride way back when, and the delightful steep skiing to be had. Forty-one percent of the trails there are advanced/expert. If you're willing to do some hiking, the high alpine terrain is steeper than a cow's face.


Breckenridge – While this resort is better known for it's historic mining town and family-friendly slopes, you can find plenty of sphincter-puckering steeps above the groomers. Take the t-bar to the top of Cucumber Bowl for some quick steep shots you can lap all day. Or, once they're open later in the season, traverse/hike out into the high alpine bowls and get your billy goat on. I love these slopes because they're so steep and relatively unskied bumps never form. In the spring their buttery faces beg for me to lay down sweet lines.
Honorable mention for steeps goes to little Eldora Mountain Resort outside Boulder, Colorado. The front side is all blue runs with a skosh of fun trees. The backside gets steeper. If you head far skier's right of the Corona lift, the runs get downright rowdy. As steep, and treed, and bumped as anywhere I've ever skied. While there isn't a ton of variety, and the conditions can trend toward bulletproof ice, hit it on a good day and you can definitely get your fix.
Got a favorite ski area for skiing steeps in Colorado that I didn't mention? Disagree with my pics? Leave a comment below and let me know.
Comments