The 14 Days of Romance Giveaway Starts February 1st!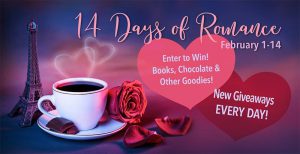 Whether you're with the love of your life, going it solo, or something in between, every romance reader deserves a little extra love on Valentine's Day. That's why 50+ romance authors (including me) have gotten together to offer you an amazing set of romance giveaway prizes every day, for the next 14 days!
If you'd like a little extra love in your life…
Enter now, and visit daily, for your chances to win ebooks, Godiva and Lindor chocolates, luscious Victoria's Secret lotion, booklover's mugs, chick flick DVDs and more!
Be sure to check the giveaway website daily for new prizes and chances to win, or a FREE
ebook for you to download immediately and enjoy. That's right, we've got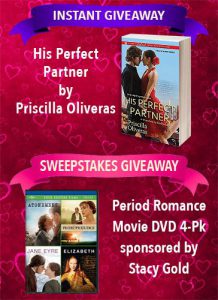 fresh prizes available each and every day for the 14 days of this romance giveaway.
Let us make your Valentine's Day sweeter!
No purchase necessary.
This Giveaway is Sponsored by these Fab Romance Authors
Allyson Lindt • Amanda Uhl • Angelica Kate • Beata Blitz • Bec McMaster • Brenna Ash • Cailin Briste • Casi McLean • Christine d'Abo • Constance Phillips • Cyra May • Debbie White • Denise Jaden • Donna R. Mercer • Holland Rae • Holly Cortelyou • Jacqueline Diamond • Jacquie Biggar • Joanne Dannon • K A Servian • Kelli McCracken • Kris Michaels • Laurel Greer • Marilyn Peake • Melissa McClone • Michele Barrow-Belisle • PG Forte • Priscilla Oliveras • Sahara Roberts • Selena Kitt • Shaniel Watson • Shelley Munro • Soraya Naomi • Stacy Gold • Stephanie Julian • Stephanie Queen • Susan Jean Ricci • Tee Smith • Tena Stetler • Tmonique Stephens • Aileen Harkwood
Comments