Help me celebrate my upcoming adventure romance release, Wild at Heart, at the Preorder Blitz Party Giveaway and you could win!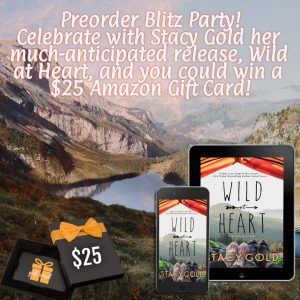 Enter to Win a $25 Amazon Gift Card and an Emerald Mountain Ski Romance e-boxed set. Plus you can preorder your copy of Wild at Heart on sale for only $0.99 at the NNLight Preorder Blitz Party giveaway!!
About my steamy backpacking romance, Wild at Heart:
They each hit the trail solo in search of themselves…
Overworked entrepreneur Jules Martinez is sick and tired of men leaving her for their exes. Determined to wipe the giant, scarlet R for rebound off her forehead, she kicks off a yearlong vow of celibacy with five, blissful weeks backpacking her favorite trails through Washington State. Solo.
Out-of-work financial analyst Evan Davenport hasn't been happy since camping in Scouts as a kid—before his wealthy parents and now ex-fiancé made all his major life decisions. Hoping to find joy and purpose, he buys all the latest ultralight backpacking gear, flies to Washington, and sets off alone on a weeklong speed hike through the wilderness.
Mother Nature has other plans, though, and keeps shoving Evan and Jules in each other's paths. Usually naked. When sparks fly, can they find what they're looking for in life together instead of apart?
What early readers are saying…
"Made my heart melt on multiple occasions. All those sweet moments were balanced perfectly with a good dose of spice"
"Refreshingly sweet and funny. The banter between Evan and Jules is delightful and story itself was entertaining."
"It's hilarious and totally not what you would expect putting him in the damsel in distress role…I'm starting to doubt my devotion to the typical "alpha-male" characters."
"I love how Jules is such a competent and fierce main character…This was a quick and enjoyable read and I loved the authors writing style."

"A wonderful read for those interested in second chances, romance, and the crazy paths that life can take us on."
"I especially love when male protagonists aren't toxic and Evan nailed that to perfection! Pick this up for a lovely and romantic time outdoors."
"(A) unique and exciting romance novel full of outdoor adventure, a sexy trail romance, self-doubt and the bravery behind loving again after past heartbreak."
Enter the rafflecopter giveaway here!
a Rafflecopter giveaway