Preorder Sale—Order Wild at Heart now for just $0.99!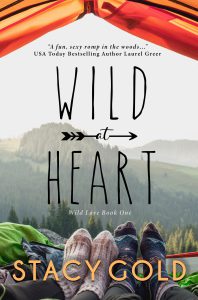 Are you searching for a spicy contemporary romance that's a little different? How about one set in the wilderness where the woman is perfectly capable of taking care of herself—and even rescuing the guy? And he falls for her because of all this and more, and is willing to be patient while she works through her own demons?
If so, you're in luck! Wild at Heart is Cheryl Strayed's Wild as a gender-flipped outdoor adventure romance also set primarily on the Pacific Crest Trail. It's got a dash of Sarina Bowen's Overnight Sensation, a smidge of Bill Bryson's A Walk In The Woods, and a tiny helping of Barbara Kingsolver's' Prodigal Summer mixed in.
Best of all, it's available to preorder now in print at full price, or as an ebook for just $0.99. It'll ship, or drop to your device, on May 2nd.
Wild at Heart features…
Opposites attract
Only one bed/ Tent sex
Outdoor adventure
Competence porn
A cinnamon roll hero
ZERO damsels in distress
People always say write the book you want to read. As an avid outdoorswoman and former Forest Service Backcountry Ranger, this steamy backpacking romance is a story from my heart. Because I want to read about other capable women in the outdoors finding a partner who appreciates them because they are badass.
Here is the detailed description:
They each hit the trail solo in search of themselves…
Overworked entrepreneur Jules Martinez is sick and tired of men leaving her for their exes. Determined to wipe the giant, scarlet R for rebound off her forehead, she kicks off a yearlong vow of celibacy with five, blissful weeks backpacking her favorite trails through Washington State. Solo.
Out-of-work financial analyst Evan Davenport hasn't been happy since camping in Scouts as a kid—before his wealthy parents and now ex-fiancé made all his major life decisions. Hoping to find joy and purpose, he buys all the latest ultralight backpacking gear, flies to Washington, and sets off alone on a weeklong speed hike through the wilderness.
Mother Nature has other plans, though, and keeps shoving Evan and Jules in each other's paths. Usually naked. When sparks fly, can they find what they're looking for in life together instead of apart?
Want to know what readers think of this steamy camping romance? Check out these early reviews…
"…did not disappoint! Jules and Evan are both such relatable and adorable characters. Evan is an absolute softie and Jules is such a strong baddie!"
"…made my heart melt on multiple occasions. All those sweet moments were balanced perfectly with a good dose of spice… Jules was a wonderfully refreshing MC… I'll definitely be picking up Aly and Bryn's books once they are released!"
"…refreshingly sweet and funny. The banter between Evan and Jules is delightful and story itself was entertaining."  
"A great read… Looking forward to the next book in the series!"  
"It's hilarious and totally not what you would expect putting him in the damsel in distress role… I'm starting to doubt my devotion to the typical "alpha-male" characters…"  
"I love how Jules is such a competent and fierce main character. The author does an amazing job painting a picture of their surroundings and the beauty of nature. This was a quick and enjoyable read and I loved the authors writing style…"  
"…a wonderful read for those interested in second chances, romance, and the crazy paths that life can take us on."  
"I especially love when male protagonists aren't toxic and Evan nailed that to perfection! Pick this up for a lovely and romantic times outdoors."  
"Author Stacy Gold hits the mark in this unique and exciting romance novel full of outdoor adventure, a sexy trail romance, self-doubt and the bravery behind loving again after past heartbreak."

Preorder your copy now in print at full price, or as an ebook for just $0.99!