My sassy, sexy, contemporary romance, Wild at Heart, has won the romance division of the 2023 Firebird Awards!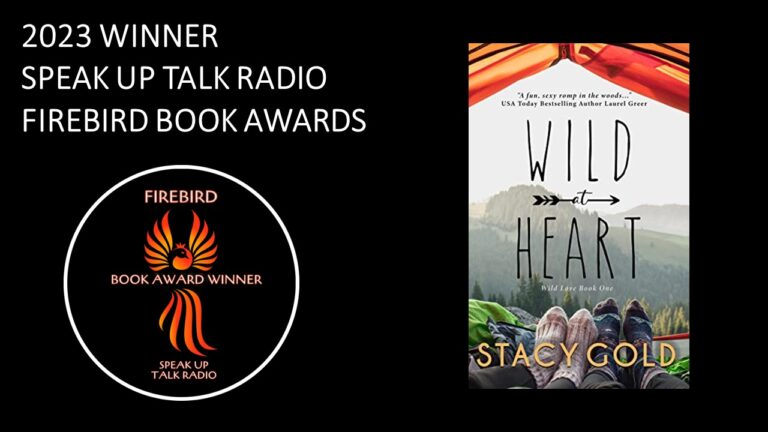 I am thrilled to announce Wild at Heart has won the Firebird Book Award for romance! For a while, it's seemed like this book–which kept making it to the finals–was destined to be always the bridesmaid, never the bride. It's wonderful to see this special story is finding it's readers.
When I wrote Wild at Heart, I was trying to do something a little different–a romance set in the outdoors with a badass heroine who rescues the "mansel in distress". I had  no idea how it would be received. Turns out, based on almost eighty, four and five star reviews and these contest results it seems pretty damn well.
Here's hoping readers love book two in the Wild Love Series, Drive Me Wild, just as much if not more.
About Wild at Heart by Stacy Gold
They each hit the trail solo in search of themselves…
Overworked entrepreneur Jules Martinez is sick and tired of men leaving her for their exes. Determined to wipe the giant, scarlet R for rebound off her forehead, she kicks off a yearlong vow of celibacy with five, blissful weeks backpacking her favorite trails through Washington State. Solo.
Out-of-work financial analyst Evan Davenport hasn't been happy since camping in Scouts as a kid—before his wealthy parents and now ex-fiancé made all his major life decisions. Hoping to find joy and purpose, he buys all the latest ultralight backpacking gear, flies to Washington, and sets off alone on a weeklong speed hike through the wilderness.
Mother Nature has other plans, though, and keeps shoving Evan and Jules in each other's paths. Usually naked. When sparks fly, can they find what they're looking for in life together instead of apart?
About the Firebird Book Awards
Authors and publishers worldwide submitted their work to the International Firebird Book Awards. Two judges from a select panel of 27 read each book and independently scored each entry. All judges commit to a set of standardized criteria that evaluates the quality of the writing as well as production aspects. Only entries with the highest scores are awarded the coveted Firebird.