Wild at Heart wins the long contemporary romance category of the New England Reader's Choice Award, making it a multi-award winner!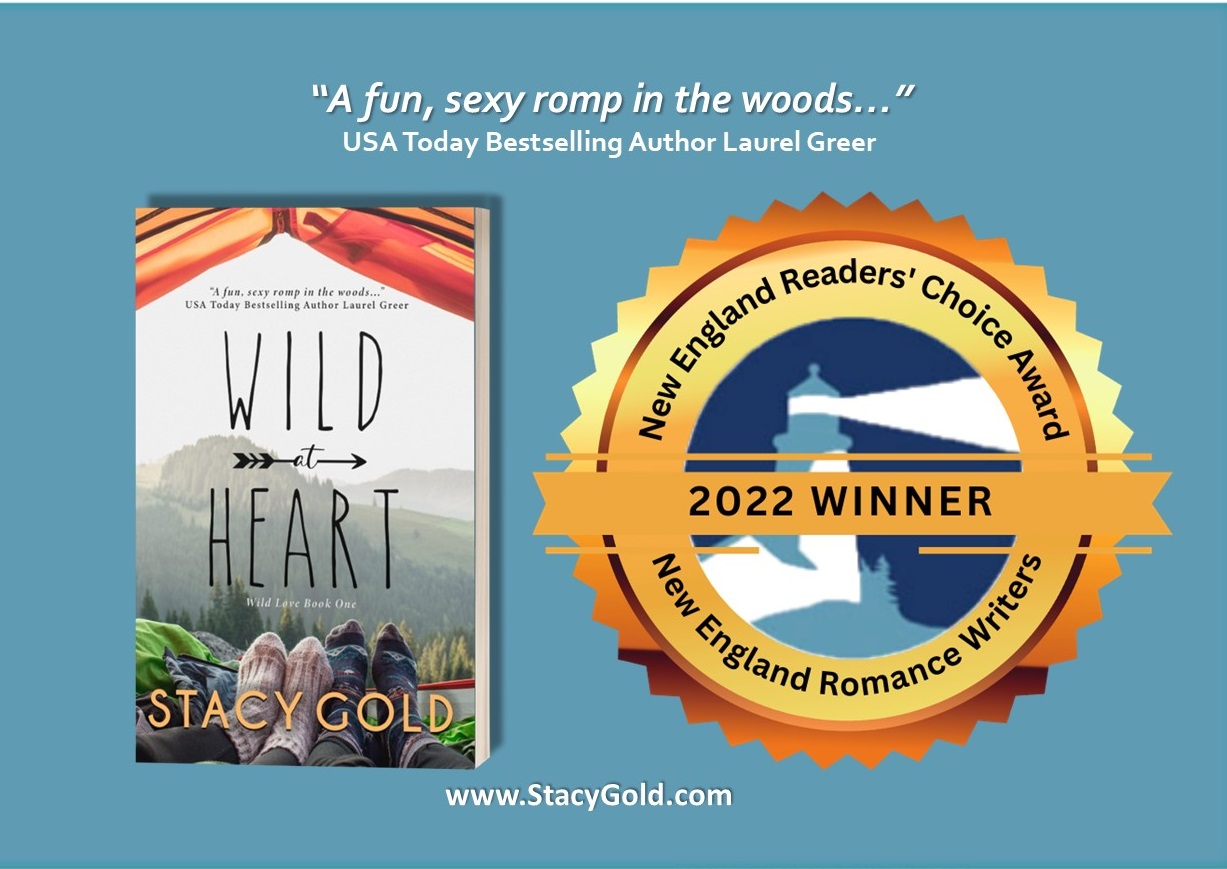 Wild at Heart has done it again…It's been chosen as the winner of the long contemporary romance category of the 2022 New England Reader's Choice Award, put on by the New England Romance Writers. I'm over the moon that this book is now a multi-award winner (They like me. They really like me!).
When I wrote this book, I was writing the book I wanted to read. A romance about a badass outdoorswoman finding love and adventure, and rescuing the man along the way. I didn't know if anyone else would want to read it. It fills my heart with joy that this book is finding an audience.
NERW is a nonprofit trade association that advances the professional interests of published and unpu
What Readers are Saying about Wild at Heart
"WILD AT HEART is a fun romp in the wilderness with stunning vistas and witty dialogue. I look forward to reading the next book in the series!" – JoAnne/Novels Alive
"Gold's ("Emerald Mountain Ski Romances" series) latest is a sexy nature read full of camping tidbits and steamy nights. Romance fans who love the great outdoors will find this a pleasant escape." — Judy Garner, Library Journal
"…as I started diving into the story I was hooked. I love the development between Jules and Even and how this isn't a typical' guy rescues girl '… Also the spice in this book is great, just the right amount and is written beautifully. Overall this book was an amazing read." – Izzy S Bookshelf on IG
"A modern-day flip on a damsel in distress romance where the heroine saves the hero in the heart of the Pacific Northwest. Her narration is so full of life, you'll be yearning to explore outside just by reading Wild at Heart. A brilliant romance, Wild at Heart is your next bucket list read." – N.N. Light's Book Heaven
"I found it difficult to stop reading, and I love how the book transitions between Jules and Evan. I recommend Wild At Heart to readers who enjoy a suspenseful romance filled with the imagery of tackling the unknown." – Stephanie Chapman for Readers' Favorite
"Author Stacy Gold hits the mark in this unique and exciting romance novel full of outdoor adventure, a sexy trail romance, self-doubt and the bravery behind loving again after past heartbreak." – NetGalley Reviewer
"I really enjoyed this book, it had a lot of good things going for it. Badass, independent woman? Check! Golden-retriever vibes man? Also check! Their chemistry was great, their meet-cute was adorable, and the whole hiking adventure was wonderful." – NetGalley Reviewer
"My contemporary choices lately have not been hits. So, I was a bit weary when I open the eBook and then I fell into the wonderful, sweet, sexy, funny world of Stacy Gold. Jules was just having one day after another but that doesn't compare to Evan's luck. Add that to them both being stuck out in the wilderness and let the fun begin. Or rather, the action, romance, flirting and humor. Seriously, this book had it all." – TBR Pile
About Wild at Heart
They each hit the trail solo in search of themselves…
Overworked entrepreneur Jules Martinez is sick and tired of men leaving her for their exes. Determined to wipe the giant, scarlet R for rebound off her forehead, she kicks off a yearlong vow of celibacy with five, blissful weeks backpacking her favorite trails through Washington State. Solo.
Out-of-work financial analyst Evan Davenport hasn't been happy since camping in Scouts as a kid—before his wealthy parents and now ex-fiancé made all his major life decisions. Hoping to find joy and purpose, he buys all the latest ultralight backpacking gear, flies to Washington, and sets off alone on a weeklong speed hike through the wilderness.
Mother Nature has other plans, though, and keeps shoving Evan and Jules in each other's paths. Usually naked. When sparks fly, can they find what they're looking for in life together instead of apart?