Inspirations for Writing My Upcoming Outdoor Adventure Romance, Wild at Heart
Like many authors, my inspirations come from my own life. So, I write outdoor adventure romance—instead of another romance sub-genre—because I've spent a lifetime working and playing in the outdoors. I have a degree in Outdoor Resource Management and Environmental Education, and spent six season working for the U.S. Forest Service as a backcountry ranger, river ranger, and naturalist out of college.
I've been a whitewater raft guide and a ski technician. I've written for outdoor sports magazines like Paddler and Canoe and Kayak, and outdoor companies including REI, MSR, Therm-a-Rest, Mountainsmith, and more. Before I started writing romance, I spent three years as communications director for a mountain biking nonprofit.
When I decided to write fiction, how could I not write about outdoor adventures?
The outdoors is my happy place. It doesn't matter if I'm backpacking, biking, skiing, paddling or just sitting on a log enjoying the view. But for too long I was one of the few women out there. This past November I was the only woman out of fourteen paddlers kayaking the Grand Canyon together for two weeks.
As an author, I want to show more competent, capable women kicking butt in the outdoors. Women like me and my girlfriends, who don't always fit the usual mold. And I want to show them finding love because of this—not in spite of it. Thus, I decided to write outdoor adventure romance featuring women who are anything but damsels in distress.
Maybe because I came late to reading romance, my approach to writing it is a little different. I'm inspired by reading and studying nature writers like Ed Abbey, Gary Nabhan, and Terry Tempest Williams. And by books that feature everything awe inspiring about the great outdoors, our connection to it, and the internal journeys we take when we're out there, pushing outside our comfort zones–particularly ones that feature women.
Three Non-Romance Books that Inspired Wild at Heart
Wild by Cheryl Strayed
I am a sucker for any story that puts a strong woman front and center in the outdoors. While Ms. Strayed didn't know what she was capable of at the beginning of her journey on the Pacific Crest Trail, she proved more than up to the task. Even more than that, I loved the way her journey of self-discovery mirrored her journey on the trail—with all the difficulties and emotional moments and beauty and grandeur. More than any other book, this story provided the inspiration for Wild at Heart.
A Walk in the Woods by Bill Bryson
Bill Bryson is always good for a chortle or two, and this book is no different. The narrative of two men who haven't seen each other in years hiking the Appalachian Trail together with no idea what they're getting into, leads to some classic stupid decision moments. A few of which inspired some of the trouble Evan gets in to out on the trail.
Prodigal Summer by Barbara Kingslover
My favorite of her books, I fell in love with the character Deanna Wolfe, a reclusive wildlife biologist living in an isolated mountain cabin, watching a den of coyotes. The path she walks in learning to let someone else in, even if only for a time, is so thoughtful. And the way a sense of place and connectedness to the natural world is woven through the narrative really speaks to me. I try to infuse a little of that same magic in my work, though I can only aspire to someday write half as well as Ms. Kingslover.
Got thoughts on this? Please do leave a comment below.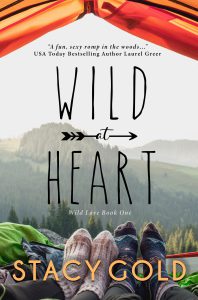 My latest outdoor adventure romance novel, WILD AT HEART, comes out May 2nd, 2022 at $6.99 for the full price.
Preorder the ebook now for just $0.99! 
Overworked entrepreneur Jules Martinez is sick and tired of men leaving her for their exes. Determined to wipe the giant, scarlet R for rebound off her forehead, she kicks off a yearlong vow of celibacy with five, blissful weeks backpacking her favorite trails through Washington State. Solo.
Out-of-work financial analyst Evan Davenport hasn't been happy since camping in Scouts as a kid—before his wealthy parents and now ex-fiancé made all his major life decisions. Hoping to find joy and purpose, he buys all the latest ultralight backpacking gear, flies to Washington, and sets off alone on a weeklong speed hike through the wilderness.
Mother Nature has other plans, though, and keeps shoving Evan and Jules in each other's paths. Usually naked. When sparks fly, can they find what they're looking for in life together instead of apart?