Both Never You and In Deep Final In the 2020 IDA Contest!!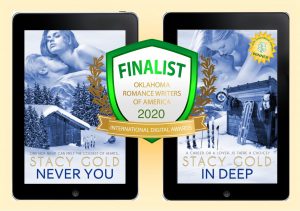 I'm thrilled and honored to announce that two of my steamy, ski romance novellas have finaled in the 2020 IDA Contest. Never You took 2nd Place, and In Deep took 5th Place in the Short Erotic category!
The IDA (International Digital Awards) is a competitive contest sponsored by Oklahoma Romance Writers of America (OKRWA), but is open to all works of fiction in digital format, regardless of romantic content.
Every novella in the Emerald Mountain Series has finaled in, or won, a major romance contest.
It's such wonderful validation to know my books have been judged worthy by contest judges who've read loads of romance. Honestly, it's a big part of what keeps me writing these books.
Thanks to these contests, and so many wonderful reviews, I'm confident there is a market for my steamy, outdoor adventure romances, and I'm working hard to publish more soon. In the meantime, keep reading to discover what makes each of these novellas so special, and the awards they've won.
Or, head on over to my Website to grab your copy of one of these award-winning novellas (or the boxed set—which saves you almost 40% off the individual cover prices).
Here's a complete list of all the awards, including the 2020 IDA contest, my Emerald Mountain Series novellas have won.
Just Friends – a friends to lovers story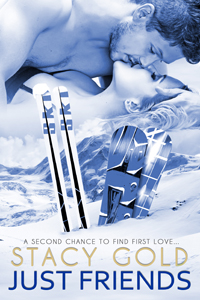 N.N. Light Book Awards Finalist – Best Erotic Romance
OKRWA IDA Contest – 3rd Place Finalist
Taya Monroe is trying to pick up the pieces of her failed writing career and broken life after walking out on her cheating fiancé. Ski Patroller Jordan Wiley is a single dad with zero time or energy for dating. When a snowstorm traps these two old friends in an avalanche of chemistry, will their friendship survive the weight of their passion?

In Deep – a second chance at love story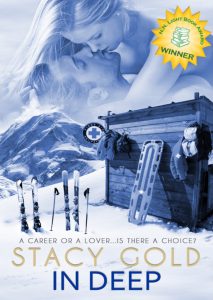 N.N. Light Book Awards Winner – Best Erotic Romance
H.O.L.T Medallion Finalist – Best First Book
OKRWA IDA Contest 5th Place Finalist – Best Erotic Short 2020
Sophie Tremore is trying to build a career in the male-dominated world of Ski Patrol. The only problem is her new boss, Ski Patrol Director Max Demford. Because for eight mind-blowing weeks two years ago, they were lovers. Forced to work together, their simmering attraction becomes difficult to ignore. When Sophie gets caught in a slide, an adrenaline-filled day could turn into a spectacular night they will never forget—one that could risk both their careers.


Never You – an enemies to lovers story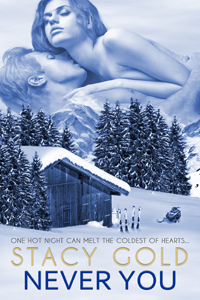 OKRWA IDA Contest Finalist – 2nd Place, Best Erotic Short 2019 & 2020
NYRWA Kathryn Hayes "When Sparks Fly" Contest – 3rd Place, Best Erotic Romance
Ski Hut Caretaker Morgan Monroe doesn't do casual relationships. Certainly not with the obnoxious, flirty, too-hot-for-his-own-good chef she's wanted to strangle all season. Chef Dan Griffin doesn't believe in relationships. But a one-night stand to celebrate the end of ski season? Hell yes! When things heat up on a cold winter's night, will they play it safe or follow their hearts?


Comments