Enter the SECRET SANTA ROMANCE GIVEAWAY and You Could Win
One of SEVEN Kindle + Ebook Prize Packages!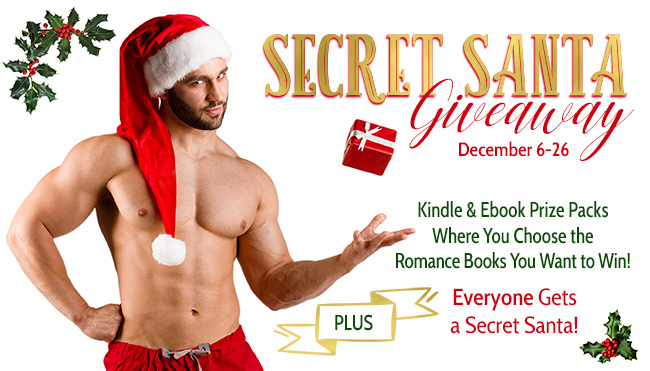 Plus, Get FREE eBook Gifts From Our Author Secret Santas just for entering.
Enter the Giveaway Here and claim your free ebooks now!
Have you been naughty or nice this year? Our Secret Santas good with both, and we have gifts for you either way. All you have to do is enter the Secret Santa Romance Giveaway and you'll be able to download free gift books from our Santa Authors.
You could also be one of 7 lucky winners to take home Kindles and ebooks up for grabs! If you win, you get to choose the books YOU want.
Giveaway ends December 26th, 2017.
Plus, shop our Secret Santa Book Fair for your next favorite read and enter our Bonus Giveaway. (No purchase necessary)
This Giveaway is Sponsored by these Fine Romance Authors
Allyson Lindt • Alyson Reynolds • Amy Ruttan • Anne Renwick • Anne Stone • April Fire • Ashlee Price • Bea Paige • Beata Blitz • Casi McLean • Christa Maurice • Christine Ashworth • Donna R. Mercer • Elizabeth SaFleur • Helen Scott • J.E. Taylor • Jacquie Biggar • Jen Doyle • Jennifer Vester • Jo-Ann Carson • Joan Reeves • Karina Kantas • Kris Michaels • Laura Greenwood • Lindsey Hart • Lynda Haviland • Marie Booth • Megyn Ward • Melinda Dozier • Michele Barrow-Belisle • Natalie Rios • Phoebe Alexander • R.M. Gauthier • Rose Chapman • S Van Horne • Sahara Roberts • Skye MacKinnon • Stacy Gold • Stella Marie Alden • Traci Douglass • Victoria Saccenti • Aileen Harkwood
Comments
You may use these HTML tags and attributes: <a href="" title=""> <abbr title=""> <acronym title=""> <b> <blockquote cite=""> <cite> <code> <del datetime=""> <em> <i> <q cite=""> <s> <strike> <strong>