Enter to Win Kindles, Romance Ebooks or a Betsy Johnson Bag in the I'm Ready for Romance Giveaway!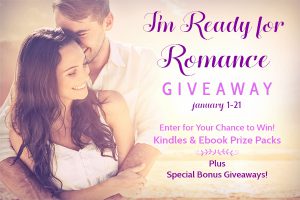 It's a new year, so I'm part of a fantastic new romance giveaway for ebook readers. Which means you get a new chance at winning fantastic romance prizes.
Ready to get 2018 off to an awesome, romance-filled start? Enter our giveaway and you could take home a Kindle, a romance Ebook Prize Pack—where you choose the books you want to win—or a sweet Betsy Johnson rosebud crossbody wallet. Plus, you could win a bonus giveaway by visiting our book fair (more on that below).
Giveaway ends January 21st.  Enter to win here.
This fabulous romance kindle & ebook giveaway is sponsored by these 63 authors:
Allyson R. Abbott • Amanda Uhl • Amy Ruttan • Anna Durand • Ashlee Price • Beata Blitz • Christa Paige • Christine d'Abo • Cynthia A. Clement • Cynthia Cooke • Dani Haviland • Debbie White • Denise Devine • Donna Fasano • Donna R. Mercer • Elizabeth SaFleur • Ember Leigh • Holly Cortelyou • J.E. Parker • Jacquie Biggar • Jen Doyle • Jennifer St. Giles • Joanne Dannon • Josie Riviera • Karen Michelle Nutt • Kel Carpenter • Kris Michaels • Kristin Holt • Leanne Banks • Lia Davis • Lilith Darville • Lynda Rees • Marie Tuhart • Marilyn Peake • Melissa McClone • Michele Barrow-Belisle • Mimi Barbour • Mona Risk • Nancy Radke • Natalie Ann • Nikki Lynn Barrett • Patrice Wilton • Rachelle Ayala • Raine English • Renee Ann Miller • Robyn Neeley • Sahara Roberts • Selena Kitt • Siera London • Sorchia DuBois • Stacy Gold • Stephanie Julian • Stephanie Queen • Susan Jean Ricci • Sydney Aaliyah Michelle • Tamara Ferguson • Tawdra Kandle • Tawny Weber • Taylor Marsh • Tracey Alvarez • Traci Douglass • Traci Hall • Veronica Blake
Plus, shop our book fair for your next romance read. Many titles are 99 cents or FREE. You'll even find a bonus giveaway for one lucky winner who visits the fair.
Comments
You may use these HTML tags and attributes: <a href="" title=""> <abbr title=""> <acronym title=""> <b> <blockquote cite=""> <cite> <code> <del datetime=""> <em> <i> <q cite=""> <s> <strike> <strong>