I become my best self on the river, because I leave the modern world and live on river time.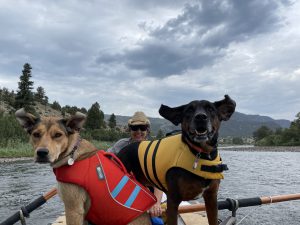 The water beneath my raft hissed and gurgled. My oars plashed in an even, meditative cadence. Wind whooshed up canyon, blowing back my dogs ears and making me worry about my straw cowboy hat. My muscles tingled and ached in the best possible way. And I knew that, somehow, I'd forgotten the true bliss that is settling in to river time on a multi-day trip.
The river has been a part of my life since my sister would take me for "river days" on the upper Chattahoochee when we were kids. We'd hang on the rocks and throw frisbee in the field and laze around all day.
At eighteen, the river entered my soul and it's never left.
That's the year I became a whitewater raft guide on Tennessee's Ocoee River. I spent that entire summer living on river time (and the next couple summers after that).
It's also the first year I squeezed my butt into a whitewater kayak, and the first year I swam a whole lot of rapids. Once I even thought I might die. I found that made me feel even more alive. Even more grateful for my time on this earth, in nature, and on the water.
I went on to work as a raft guide, safety kayaker, and Forest Service Kayak Ranger on and off for the next sixteen years—spending day after day immersed in the rhythm and flow of the river.
Somehow, over the years I've only been on a handful of multi-day trips, all of which I loved. They became nothing more than amazing memories.
Despite continuing to kayak for fun, life and injuries made my river days number so few I could count them on my fingers. In a good year fingers and toes. Each journey blissful but fleeting. Sweet tastes of that good, good life.
When our friends invited us on a 3-day raft trip for my birthday weekend this year, and even provided a raft for me to row, we said yes right away. We gathered our usual camping gear and our life jackets and river sandals and dogs without really thinking about what we were about to experience.
God, I'd forgotten how much I love it. How much it brings out the best in me. How good it feels to wake up when the sun warms the walls of your tent, eat when you're hungry, throw disc in a grassy field, and move through canyons at the speed of the river.
In a raft, you have only one speed. No faster. No slower. My attention stays captured by the meander and flow of current. The sun lighting the canyon walls rose gold. The outstretched, mottled wings of a Golden Eagle taking flight from a treetop. The scrum of rocks and rapids in the hardest sections.
On the river I forget about the stresses and worries of day to life and breath clean air and work my muscles until they're pleasantly thrashed. I become centered, and joyful, and relaxed. I am my best self, living on river time.
This November we'll spend two weeks kayaking through the Grand Canyon. I can't wait!
Have you experienced something like river time? If so, I'd love to know more in the comments below.