If you haven't read The Hate U Give by Angie Thomas yet, grab a copy ASAP.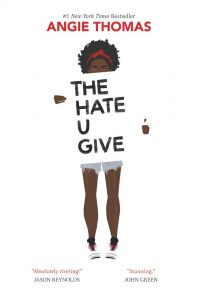 My first thought after finishing The Hate U Give was, wow! Just, WOW!! This book blew my mind, and I devoured it in one sitting. Be warned, this is most definitely not a romance.
The title comes from Tupac Shakur's "thug life", which stands for "the hate u gave lil infants fucks everyone." The way the author ties that theme into the overarching story is incredibly powerful.
Why I Loved this Book
The voice of the narrator is spot-on. This story is so well-written, so real, so emotional, it brings you right into the protagonists' world. And it couldn't be more timely.
THUG is told from the point of view of a young, black woman straddling two worlds–the ghetto where she lives, and the mostly white, private high school she attends. The catalyst for the story is the brutal police shooting of an unarmed black man she grew up with. The rest of the book deals with the cascading impacts to their families, friends, and community.
This is the story (or at least one possible story) of how too many vibrant, intelligent, young black people end up in jail, dealing drugs, pregnant too young, or dead on the streets. The problems it deals with are real problems that real people face every day. Finally, it's a story about the power of love and family and friendships.
The rights have already been bought to turn this book into a film, and many of the characters cast. Fingers crossed they do the story justice and make the author proud. If so, it could change the way many Americans perceive discrimination in our society.
I can't wait to read whatever else Ms. Thomas publishes. I don't want to give away any major spoilers, so I'll stop here. Go buy it, read it, and review it now.
Already read it? I'd love to know what you thought of it in the comments below!
Comments