Book Review of Erotic Romance Novel Prime Minister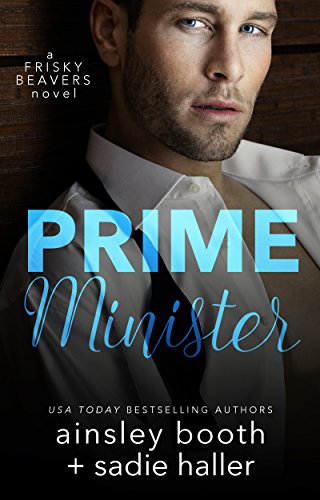 "A kinky Prime Minister, a vanilla intern, and a scandal that shouldn't feel so right or cost so much."
Every so often, I read a book that's worth recommending. When I do, I blog about it and post a shorter review to Goodreads. Often, they're ones my awesome critique partner, author Laurel Greer recommends. She has excellent taste in books, and recommended I read Prime Minister by Ainsley Booth and Sadie Haller.
What a fun and frisky read it turned out to be. I admit, I have a major crush on Justin Trudeau, the brilliant, thoughtful, sexy, Prime Minister of Canada. While the authors state up front this story isn't based on factual characters, it is awesome fan fiction for anyone with the hots for Canada's PM. It's also got a nice dose of real politics, and a smart heroine, both of which I enjoyed.
Prime Minister is well-written, though the storyline requires a bit of suspension of disbelief here and there. Then again, that isn't always a negative. With a series title of Frisky Beavers these books aren't meant to be taken 100% seriously. The authors are having fun and want the reader to join in the ride. And there is some good, 'ahem', riding in there, too (This IS a book review of erotic romance, after all).
I haven't started book two yet, which looks to be a bit more BDSM focused, (only sometimes my cup of tea). But I'll likely read that sooner than later because I enjoyed the writers' style.
This book is definitely worth your time, especially if you have a crush on Canada's PM, enjoy politics and romance mixed together, and prefer your romances on the hot and spicy side. Buy and read Prime Minister.*
Have you read Prime Minister? What did you think? Or has this review convinced you to buy it? Please let me know yoru thoughts below.
*I get nothing except warm fuzzies, (no affiliate commission, $0) for recommending this or any other book. I did not receive a free copy.
Comments