5 STARS for Skipping Out on Henry by C.L. Ogilvie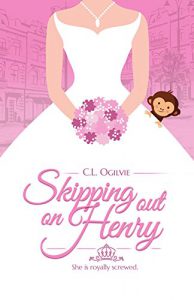 I've always been an avid reader, and by that I mean an avid reader of everything and anything. At different times in my life, I've binge-read fantasy, sci-fi, historical fiction, the classics, Michener, Stephen King, Clive Cussler, Judy Blume, literary fiction–you name it.
While nowadays I mostly read contemporary romance, because that's what I write, I'm always up for reading something new and different. Skipping Out on Henry fit the bill so perfectly I felt compelled to write a book review.
The author happens to be one of my Twitter friends. As a result of that friendship, I was lucky enough to get to beta read the book in its formative stages, and receive an ARC for review before it's release. However, I have also bought a copy. And I wouldn't have written a book review if I didn't honestly enjoy the story.
And now, on to the book review…
If you're looking for something fresh and fun to read, this book is clever, fast-paced, and laugh-out-loud funny! It's a modern take on the time-travel story, and C.L. Ogilvie weaves history, hilarity, and a dash of romance into the perfect vacation read.
I'm not usually one for a ditsy, self-absorbed heroine, but Posey really worked for me. Her shortcomings get her and her bestie into a world of difficulties—starting with accidentally following a random hot guy through a time portal—and make her redeemable. I love a book that surprises me, and makes me laugh out loud. This book did both.
It's not a romance, per se, but it has a nice romantic secondary story that makes you root for Posey to find love. Grab a copy here, now.
If you've read Skipping Out on Henry, I'd love to know what you thought of it. Please comment below, and of course leave your review on Amazon, Goodreads, and anywhere else you can!
Comments