Just Friends—Emerald Mountain Book #1
Just Friends is a sizzling hot short story about second chances, taking risks, and changing your life to satisfy your soul. Only $1.99!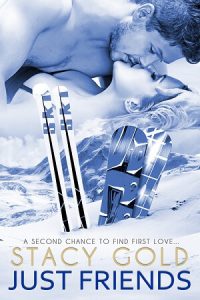 What's inside? Approximately 50 pages featuring old friends reunited, powder skiing, hot sex.
Taya Monroe is trying to pick up the pieces of her failed writing career and broken

life after walking out on her cheating fiancé. The last thing she needs is a serious relationship. The last thing she wants is a fling. Then she runs into an old friend and ski partner—the one man she always wanted who never wanted her.
Ski Patroller Jordan Wiley is a single dad with zero time or energy for dating.
When he reconnects with Taya, his attraction to her is even stronger than before she left him behind for a career in the city. But with a young son to think about, he's determined to ignore his feelings. Again.
After a magical day on the slopes, a snow storm traps them in an avalanche of

chemistry neither can deny. Will their friendship survive the weight of their passion, or will they surface as more than friends?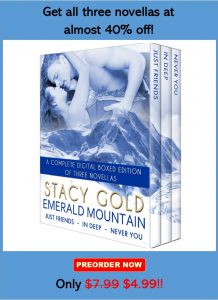 READ A FREE EXCERPT HERE
Check out Emerald Mountain Book 2 – In Deep, or Emerald Mountain Book 3-Never You Each book is a stand-alone and they are not in chronological order.

Follow me on Goodreads and Bookbub