Romance Readers: Enter the "I Want Romance"Giveaway
for Your Chance to Win One of Eight Prizes!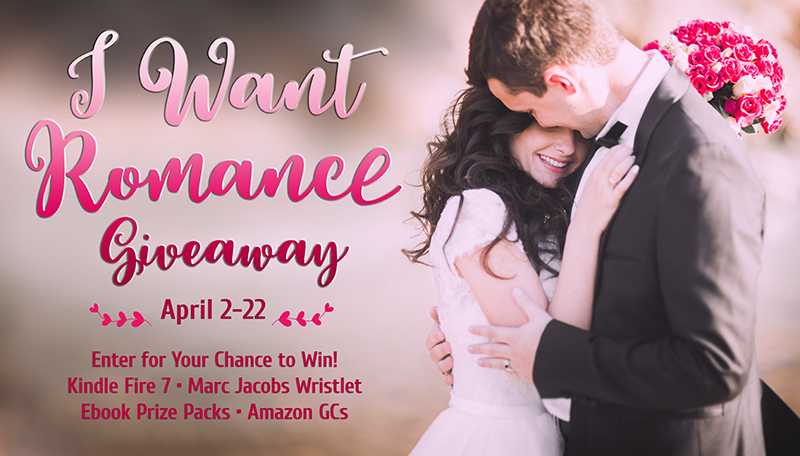 Enter the I Want Romance giveaway today and you could win 8 great prizes including a Kindle Fire, romance ebooks, or a Marc Jacobs leather wristlet to carry your phone and money in style!
Who couldn't use a little more romance in their lives? Not to mention a pretty in pink Marc Jacobs leather wrist wallet that fits your smartphone? Or a Kindle Fire 7? Or maybe you've been lusting after the newest romance bestseller on Amazon. Well, you've got from now until April 22nd to enter to win, and hopefully add some more 'romance' to your life!
Want One More Chance to Win?
Plus, find a bonus giveaway when you check out our book fair, where you can choose from books in genres from contemporary romance to romantic suspense to PNR for 2.99 or less.
The "I Want Romance" Giveaway is Sponsored by these 67 Fabulous Romance Authors
Alexia Adams • Allyson R Abbott • Amy Ruttan • Anne Stone • Aubrey Wynne • Becky Lower • Bethany-Kris • Brenda Whiteside • Brighton Walsh • Cailin Briste • Calinda B • Candace Sams • Carla Krae • Carrie Whitethorne • Cate Tayler • CB Samet • Cecy Robson • Charmaine Ross • Crystal Dawn • Donna R. Mercer • E.B. Black • Eliza Daly • Elizabeth Meyette • Elizabeth Rose • Holly Cortelyou • J. L. Lora • J.E. Parker • Jacquie Biggar • JC Andrijeski • Jen Doyle • Jennifer Dawson • Joan Reeves • Joanne Dannon • Josie Riviera • Julieann Dove • Karly Morgan • Kim Petersen  • Kris Michaels • Kristin Holt • Kristy Tate • L A Cotton • Lana Campbell • Laurel Greer • Linda Carroll-Bradd • Lola Karns • Madeline Iva • Mari Carr • Marilyn Peake • Megyn Ward • Melissa Belle • Melissa McClone • Michele Barrow-Belisle • Nancy C. Weeks • Patrice Wilton • PG Forte • Renee Ann Miller • Ruth A. Casie • Sarah Williams • Shereen Vedam • Soraya Naomi • Stacey Joy Netzel • Stacy Gold • Susan Jean Ricci • Susanne Matthews • Sydney Aaliyah Michelle • Victoria Saccenti • Aileen Harkwood
Comments