Author Stacy Gold will be at the Romancelahoma Book Signing Event and the Heart Awards Banquet, where Wild at Heart is a Finalist!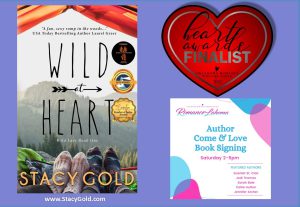 In her inaugural return to live romance writer conferences, Stacy Gold will be at Romancelahoma in Oklahoma City August 4th-5th, 2023. Join her for a FREE and open to the public book sale and signing on Saturday, Aug 5th from 2-5pm.
Her debut adventure romance novel, Wild at Heart, is up for the Heart Award. Winners will be announced at the banquet on Saturday night and via Facebook Live.
Other authors at the book signing include: Scarlett St. Clair, Jodi Thomas, Sarah Bale, Callie Hutton, Jennifer Archer, and many more…
Romancelahoma and the Come & Love Book Sale and Signing take place at the Embassy Suites by Hilton Oklahoma City Downtown Medical Center.
741 N Phillips Ave
Oklahoma City, OK 73104
The conference is produced by the Oklahoma Romance Writers Guild, Inc.
Formed in 2019, the Oklahoma Romance Writers Guild (OKRWG) is a 501(c)(3) not-for-profit organization with a mission to promote higher standards for the written word. We seek to coordinate and encourage professional writing, specifically pertaining to writing the romance genre, romance sub-genres, and romantic subplots in Oklahoma.
Get all the Romancelahoma details here.