Download All Three Steamy, Award-Winning Ski Romance Novellas Now for One Super-Low Price – Just $0.99!
Stuck inside? Sad your ski season got cut short? Want more powder turns, romance, and sexytimes in your quarantinelife? The snow is always deep and fluffy and the sex is always steamy at Emerald Mountain. And right now, you can get the entire boxed set of three, steamy ski romance novellas for just $0.99.
Because I know so many of us avid skiers are super bummed the resorts, and even the backcountry trailheads, are closed right now I wanted to offer my books for free. Unfortunately, the deal with my publisher and Amazon makes that impossible. So I've done the next best thing…
I've worked with my publisher to put my Emerald Mountain Digital Boxed Set on sale for just $0.99. That means you get all award-winning three ski romance novellas for $7.00 off the individual list pricing, and $4.00 off the boxed set price, for the next two weeks (Sale ends April 9th).
This way you can get hours of sick powder skiing, sweet romance, and steamy sex in the comfort of your own home. Since the whole set is on sale for less than a dollar, that's just $0.33 per novella. Way cheaper than a ski pass and way easier than dating.
What's in the Emerald Mountain Boxed Set?
JUST FRIENDS – A friends to lovers romance featuring a jilted fiancé struggling to find her footing, a single Dad who hasn't dated in years, and tons of sexual tension and sick powder skiing.
♦ N.N. Light Book Awards Finalist – Best Erotic Romance
♦ OKRWA IDA Contest – 3rd Place Finalist
 Taya Monroe is trying to pick up the pieces of her failed writing career and broken life after walking out on her cheating fiancé. Ski Patroller Jordan Wiley is a single dad with zero time or energy for dating. They hadn't seen each other in years when they run into each other at Emerald Mountain.
When a snow storm traps these two old friends in an avalanche of chemistry, will their friendship survive the weight of their passion?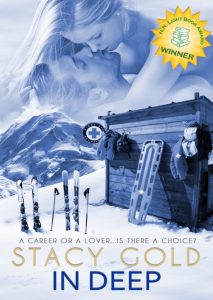 IN DEEP – A second chance workplace romance set in the adrenaline-packed world of Ski Patrol, featuring a take no shit woman and the taciturn man she wouldn't admit she fell in love with two years earlier.
♦ N.N. Light Book Awards Winner – Best Erotic Romance
♦ H.O.L.T Medallion Finalist – Best First Book
Sophie Tremore is trying to build a career in the male-dominated world of Ski Patrol. Hard to do when her new boss is her smokin' hot ex-lover. Emerald Mountain Ski Patrol Director Max Demford has been doing his best to avoid working with his feisty former flame, given his judgment is clouded by those eight mind-blowing weeks two years ago.
Forced to work together, their simmering attraction becomes difficult to ignore. When Sophie gets caught in a slide, an adrenaline-filled day could turn into a spectacular night they will never forget—one that could risk both their careers.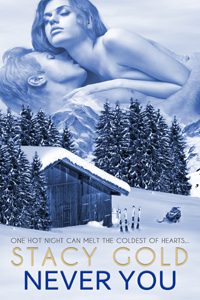 NEVER YOU – An enemies to lovers, forced proximity workplace romance in a remote, backcounty ski hut featuring a sexy chef, an independent woman, and plenty of snappy banter.
♦ OKRWA IDA Contest Finalist – 2nd Place, Best Erotic Short
♦ NYRWA Kathryn Hayes "When Sparks Fly" Contest – 3rd Place, Best Erotic Romance
Emerald Mountain Ski Hut Caretaker Morgan Monroe doesn't do casual relationships. Not anymore. Certainly not with the obnoxious, flirty, too-hot-for-his-own-good chef she's wanted to strangle all season. Chef Dan Griffin doesn't believe in relationships. But a one-night stand to celebrate the end of ski season? Hell yes!
When things heat up on a cold winter's night, will they play it safe or follow their hearts?
Get all three award-winning, steamy ski romance novellas for just $0.99 right now for your Nook or Kindle.

EMERALD MOUNTAIN REVIEWS
"While you could easily read each book at your own leisure (on the bus, with a cup of coffee or by the pool) I would definitely recommend binge reading them one after the other. Each story is a high-octane, adrenaline packed romp with a little drama, and some seriously scorching passion!
The strong, sassy and independent women are a delight, while the men are sexy, strong and definitely Alpha in their ways. These are quick, easy reads, but they certainly lack nothing in content and delivery. I'm happy to recommend them as exciting, sizzling stories of smoking` HOT romance on Emerald Mountain." Karen Roma, Librarian on Goodreads
5 stars – "While I've read each book individually, binge-reading the series together on one sitting is such much better! Smokin' hot romance on the ski slopes. The women are independent and strong while the men are all that and more. Refreshing to read. Highly recommend!" N.N. Light on Goodreads
5 stars  – "Great romantic stories. Not my usual genre but extremely well written."Jackie on Goodreads
"…danger, lust, compassion, and adventure without leaving your warm home." Heartracer on Reading Alley Reviews
"The queen of sexual tension is back…a must-read! Fun, flirty, hot!" N. N. Light, Top International Reviewer
"…strong characters and a lot of sizzling chemistry." Long and Short Reviews
"A snappy, sexy bite of romance in the snow." Christine on Goodreads
"…full of sizzling romance, lust, adventure, danger and passion." – Coffee Chat
"…this page-turner delivers plenty of heat and sizzle in the snow." Laurel Greer, Author
Get the entire Emerald Mountain Digital Boxed Set on sale now!
Comments