Wild at Heart, by Stacy Gold, Named One of Five 2022 Booklife Prize Finalists!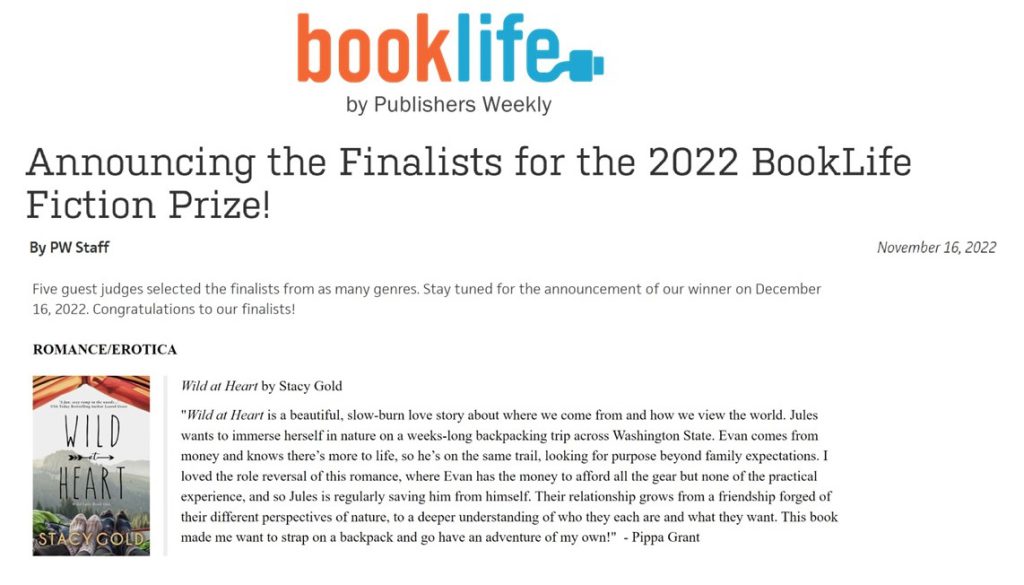 My contemporary backpacking romance novel Wild at Heart made it past the semi-finals and is now one of five books chosen from five different genres as a 2022 BookLife Prize finalist. Even if I make it no further in this contest, I am incredibly honored and excited!!
As part of making the finals, I'm currently featured in an interview on the Booklife website. And I got an amazing review from the romance category judge, USA Today bestselling author Pippa Grant.
Review of Wild at Heart by Stacy Gold
"Wild at Heart is a beautiful, slow-burn love story about where we come from and how we view the world. Jules wants to immerse herself in nature on a weeks-long backpacking trip across Washington State. Evan comes from money and knows there's more to life, so he's on the same trail, looking for purpose beyond family expectations. I loved the role reversal of this romance, where Evan has the money to afford all the gear but none of the practical experience, and so Jules is regularly saving him from himself. Their relationship grows from a friendship forged of their different perspectives of nature, to a deeper understanding of who they each are and what they want. This book made me want to strap on a backpack and go have an adventure of my own!"  – Pippa Grant
Grab your copy of Wild at Heart here
About the Booklife Prize by Publishers Weekly
BookLife is the part of Publishers Weekly dedicated to independently published books.  The BookLife Prize is an annual writing competition in two Contests (Fiction and Nonfiction) sponsored by BookLife and Publishers Weekly. The Prize seeks to support independent authors and discover great written works in nine categories across the two Sections.
The categories in the Fiction Contest are: Romance/Erotica; Mystery/Thriller; Science Fiction/Fantasy/Horror; General Fiction; and Middle-Grade & YA Fiction. The Prize is judged by PW reviewers, editors, acclaimed authors, and publishing veterans, and awards are given to finalists in each Contest's categories, with a grand cash prize of $5,000 going to the most outstanding finalist in each Contest. The winner will be announced December 16th, 2022.