Officially Adding Red, White & Royal Blue by Casey McQuiston to the List of Best Books I've Read All Year (Yes, I know it came out in 2019, but I just read it.)!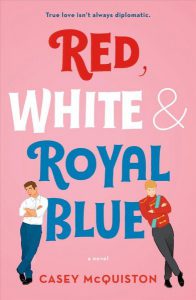 It takes truly great writing to make me love a book written in third person these days. Author Casey McQuiston manages to achieve this near-impossible feat with her debut Red, White & Royal Blue.
This book has everything…Clear, vivid writing, fresh and snappy dialogue, quirky characters you want to root for, scandals, politics, a fake friendship that turns into much more, and British Royals. What's not to love?
Right from the start the character's hyper-realistic, modern dialog grabbed me. Then the descriptions of White House life swept me away to another world. Add in the high stakes of a forbidden gay romance between the current (Female!) American President's son and one of the princes of England (Yes, this is a m/m romance.), and a dash of hope for a better America, and I was sold.
I absolutely loved the details of D.C. life and politics, and the political machinations that happen internally as well as with our neighbors across the pond. It's clear the author has lived in D.C. or worked in the political world, or she did a helluva lot of research.
Ms. McQuiston builds idiosyncratic, nuanced characters, layering in details to create real people that keep on living in my head. They're smart, and funny, and weird, and stuck in impossible situations that the author somehow makes believable. And the way she lets the romance develop from an apparent enemies-to-lovers to clearly-they're-perfect-together is so very fulfilling.
I was rooting hard for these two to figure out how much they really love each other—and what they're willing to sacrifice to be happy. I can't wait to get my hands on her upcoming release.
If you haven't read Red, White & Royal Blue yet, what are you waiting for? Grab your copy now.
Book Blurb for Red, White & Royal Blue
First Son Alex Claremont-Diaz is the closest thing to a prince this side of the Atlantic. With his intrepid sister and the Veep's genius granddaughter, they're the White House Trio, a beautiful millennial marketing strategy for his mother, President Ellen Claremont. International socialite duties do have downsides—namely, when photos of a confrontation with his longtime nemesis Prince Henry at a royal wedding leak to the tabloids and threaten American/British relations.
The plan for damage control: staging a fake friendship between the First Son and the Prince. Alex is busy enough handling his mother's bloodthirsty opponents and his own political ambitions without an uptight royal slowing him down. But beneath Henry's Prince Charming veneer, there's a soft-hearted eccentric with a dry sense of humor and more than one ghost haunting him.
As President Claremont kicks off her reelection bid, Alex finds himself hurtling into a secret relationship with Henry that could derail the campaign and upend two nations. And Henry throws everything into question for Alex, an impulsive, charming guy who thought he knew everything: What is worth the sacrifice? How do you do all the good you can do? And, most importantly, how will history remember you?
Grab your copy right here right now!
Have you read this romance? What did you think? I'd love to know in the comments below…
Comments