Make You Mine by Tia Louise is the Best Romance I've Read So Far this Year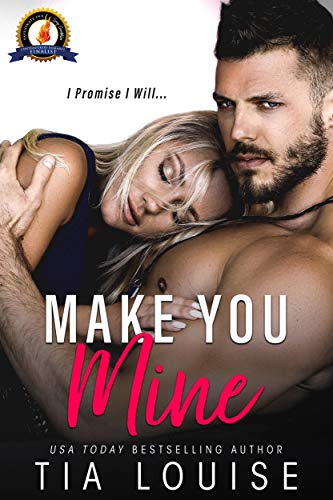 I've read seven romances since January. Or at least tried to (see my recent blog posts on Quality vs Quantity and Why I DNF Books). Out of those, only one has stood out as worth reviewing—because I only write reviews of books good enough to recommend to others. If it ain't four star of better, you won't hear about it from me!
Make You Mine was fabulous. The kind of book that sucks you in from the first page and doesn't spit you out until long after you're done. It had just the right amounts of sex, sexual tension, angst, and love. Plus, a twist or two I honestly didn't see coming.
I'll do my best to share the gist without spoilers (because I'm cool like that). The story starts with a pair of late teens lovers who end up torn apart by life, war, and fate. The setup emphasizes how much they're into each other, but they're young, and it seems the biggest obstacle to being together is that he's her brother's best friend. So, she is off limits. This helps push the sexual and emotional tension off the charts from the first chapter.
When the two boys enlist, it adds a more adult level of angst and emotion I wasn't expecting at the beginning. The first twist, while a little more obvious than later ones, does a great job of setting up the true conflict between these lovers.
It's the woman who chases the man in this one, which is always refreshing. And the writing style goes down smooth and easy—which is something I always look for in a book. I don't want to think about the writing, I want to be immersed in the story.
Anyhoo, I can't say much more about Make You Mine without spoiling it, so I'll just say buy it, read it, enjoy it, review it.
Comments