Love Lettering, by Kate Clayborn, Is My Top Romance Book Pick of 2020 So Far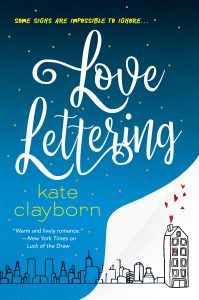 Especially with the world on fire, I find myself drawn to charming, funny, character-driven, romances that are low on serious angst and medium to high on steam. The kind of book that gives you all the best feels and ends like a warm hug. With the kind of characters you'd like to be friends with.
This book is everything.
It's a beautiful, lyrical, heartfelt love story about two quirky, flawed humans finding each other and becoming better people together. And it's so very satisfying on every level.
Love Lettering proves Kate Clayborn is an amazing wordsmith at the top of her craft.
I am a sucker for a romance with carefully crafted writing, realistic characters that learn and grow, and a nice dose of steamy sexual tension. This book fits the bill.
Written in first person, present tense, it rather interestingly features only one character's point of view. Usually, I like to see inside the heads of all the romantic partners, but in this case the main character has such a distinctive voice it really works. I really felt like I was in her head.
The story is small, with only a handful of characters and zero big, action-packed moments. It's entirely character-driven with an incredibly awkward meet-cute, and a way of finding surprising common ground between the characters that makes the reader really root for them. Instead of a big breakup, it throws in a fabulous surprise twist at the end.
Very few books meet my exceedingly high standards. This one beat them by a mile. I honestly couldn't put it down. I am in awe of Ms. Clayborn's talent, and can't wait it to read it again (and again, and again).
Do yourself a favor —  click over to her Website and buy, read, and review it now! You can thank me later.
Back Cover Blurb 
One little word puts a woman's business—and her heart—in jeopardy…
Meg Mackworth's hand-lettering skill has made her famous as the Planner of Park Slope, designing custom journals for New York City's elite. She has another skill too: reading signs that other people miss. Knowing the upcoming marriage of Reid Sutherland and his gorgeous fiancée was doomed to fail is one thing, but weaving a secret word of warning into their wedding program is another. Meg may have thought no one would spot it, but she hadn't counted on sharp-eyed, pattern-obsessed Reid . . .
A year later, Reid has tracked Meg down to find out how she knew that his meticulously planned future was about to implode. But with a looming deadline and a bad case of creative block, Meg doesn't have time for Reid's questions—unless he can help her find her missing inspiration. As they gradually open up to each other, both try to ignore deepening connection between them. But the signs are there—irresistible, indisputable, urging Meg to heed the messages Reid is sending her, before it's too late . . .
Got a book you think is better? I'd love to read it. Please leave your recommendation in the comments below.
Comments