Emerald Mountain Novellas Digital Boxed Set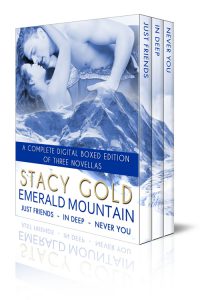 Get all three steamy, stand-alone ski romance novellas and save almost 40% off the cover prices!
Just Friends — A cold day of powder skiing leads to a night of hot sex, and maybe more, in this short, steamy, friends-to-lovers novelette. (58 pages)
In Deep – (Best Erotic Romance 2018 – NN Light Annual Book Awards) – Avalanches aren't the only thing ex-lovers and Ski Patrollers Max and Sophie are trying to control in this steamy, second chance at love novella. (90 pages)
Never You – It's the end of ski season. She doesn't do casual. He doesn't do serious. Alone in the backcountry, are some rules made to be broken in this enemies-to-lovers novella? (113 pages)
*Stories in the Emerald Mountain series are stand-alone, and the books are not in chronological order.*
Check out Emerald Mountain Book 1 – Just Friends, Emerald Mountain Book 2 – In Deep or Emerald Mountain Book 3-Never You.
Follow me on Goodreads & Bookbub