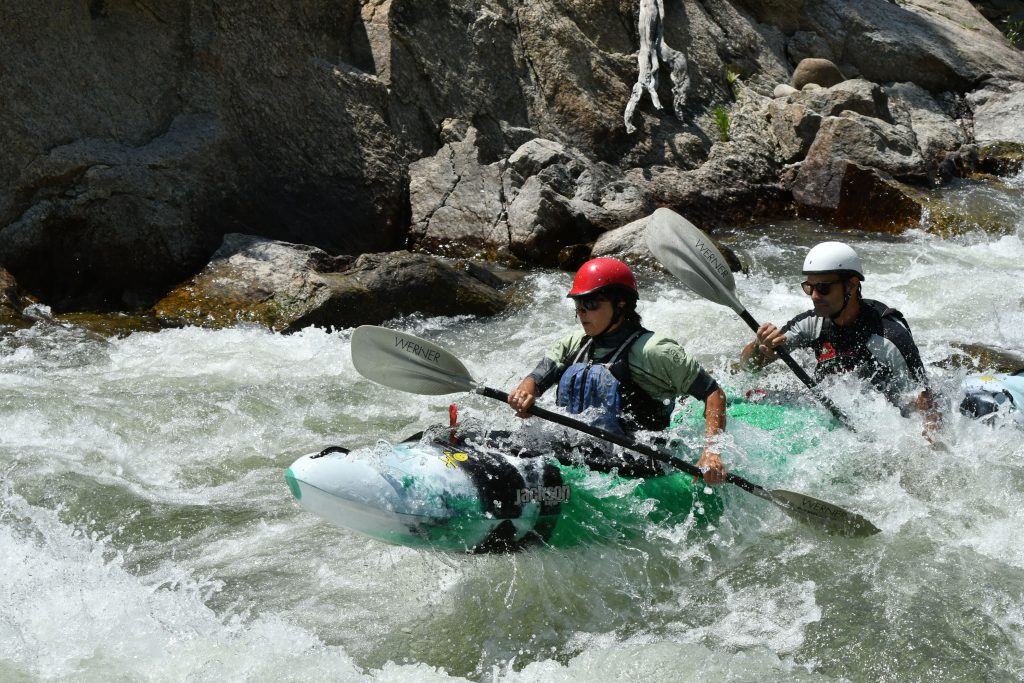 Ten Random Things Most People Don't Know About Me
If you've been following me for a while, you already know I live in Colorado, do a ton of outdoor sports, and write steamy, outdoor adventure romance novels. You might also know I own dogs and play in the mountains every chance I get with my wonderful hubby. So this post is devoted to ten random things you may not know about me.
Despite the fact I became both a semi-pro contemporary dancer and a semi-pro whitewater kayaker in my twenties, I was a terrible athlete as a kid. We're talking always picked last for any team sport. I played soccer, poorly, for six seasons. I tried gymnastics and was… not good. I did not make the cheerleading squad in eighth grade. But I fell into whitewater raft guiding and kayaking at 18 and something just clicked.
I lived in my car for a total of about two years in my twenties. The longest stint was seven months. I moved into the back of my pickup truck on March 31st, in Jackson Hole, WY, and awoke on April Fool's Day to 15 degrees Fahrenheit. Luckily, it only got warmer from there and I ended up meeting and camping and kayaking with my now husband that summer.
While I was born and raised in the U.S. of A., I have dual citizenship with Switzerland thanks to my immigrant mother. I still have family over there and visit whenever I can.
I love learning languages. In addition to English, I speak pretty fluent French and better than just tourist Spanish. Plus a few words each in German and Italian and Mandarin. I got a subscription to Rosetta Stone during the pandemic and have been brushing up on the first two regularly.
My husband and I only have one car, so I walk or bike almost everywhere (we do have a '78 VW Bus with a full camper set-up, but it's not a daily driver. Just an RV.). In an average week I cover an easy 50 miles between the two.
I started college and moved out of my parent's house when I was 17. At 19 I moved across the country alone to get residency before transferring to Colorado State for my degree in Resource Management and Environmental Education.
You cannot gross me out. My father was a veterinarian. Growing up I worked in his animal hospital after school and on weekends throughout my childhood and again in my mid-twenties, cleaning kennels and assisting in the exam room and surgery. As a result, I also can't imagine living life without a dog.  
I'm a longtime dancer. I started with modern jazz for PE credit in college and got hooked, adding classes in modern/contemporary and a little hip hop. By the time I graduated I was two credits shy of a dance minor. I went on to dance with a small modern dance company in Jackson, WY and have continued taking and teaching class for thirty years. Along the way I also learned ballet and ballroom (swing, waltz, foxtrot, a little cha-cha and rhumba). A few years ago I began studying tap and continue taking classes weekly.
I did not start writing fiction until I was 44 years old. Up until that point I'd always written non-fiction…essays, magazine articles, marketing copy, etc. It took me three years to learn how to write a good story, and another year to sell my first one, but it's more fun writing romance than anything else I've tried.
My husband and I have been together for twenty-three happy years! This August will be our 21st wedding anniversary—and that's saying something considering I never wanted to get married. Ever. Not after seeing the marriages in my family. I just couldn't understand why someone would volunteer for that. But I knew I wanted to stay with him forever, and marriage was important to him, so I said yes. One of the best choices I've ever made. We've learned and grown and worked through so much and we're best friends and partners and still have so much fun together.
Got questions about any of these ten random things about me, or anything else? Leave them in the comments below.